Finding the perfect television to elevate your entertainment experience has become an essential pursuit. Fortunately, Google TV's 4-SERIES has made this journey effortless by offering a captivating array of features to indulge your senses and enhance viewing pleasure. In this post, we explain the best google tv that defines the future. Let's delve into what makes the 4-SERIES, available in sizes ranging from 43″ to 75″, a must-have for any entertainment enthusiast. 
Amazing Visual Experience With TCL 4-SERIES google tv. 
The heart of any great television is its display quality, and the 4-SERIES does not disappoint. With 4K Ultra HD resolution, this TV delivers stunningly crisp and detailed images that will immerse you in every scene.
HDR: Unveiling True-to-Life Colors
High Dynamic Range (HDR) technology is essential for reproducing a wider range of colors and contrasts, making your content look more true-to-life. With the 4-SERIES, you can effortlessly dive into a world of vibrant colors, deeper blacks, and brighter whites. HDR brings a level of realism to your content that is simply breathtaking, ensuring that every frame is a visual masterpiece.
Chromecast Built-In: Casting Made Simple
One of the standout features of the 4-SERIES is its integration of Chromecast. You can easily cast your favorite content, apps, and more from your smartphone or tablet directly to your TV. Say goodbye to the hassle of connecting cables or fumbling with remote controls. With Chromecast built-in, you can effortlessly share videos, photos, and even presentations on the big screen with just a few taps, making it a breeze to showcase your digital treasures.
Get limitless apps for streaming: A World of Entertainment.
In the age of cord-cutting, having access to a vast library of streaming apps is essential. The 4-SERIES offers just that, with the ability to access thousands of streaming apps at your fingertips. You can easily dive into your favorite content with a popular streaming service without additional devices. It's all about convenience and ensuring you have the desired entertainment options.
Digital TV Tuner and Smart Features: Simplifying Cord Cutting
For those looking to cut the cord and embrace a more streamlined entertainment experience, the 4-SERIES has you covered. It comes equipped with a digital TV tuner, allowing you to access over-the-air channels with ease. This smart TV also offers various features designed to enhance your viewing pleasure, from voice search capabilities to personalized recommendations based on your viewing habits.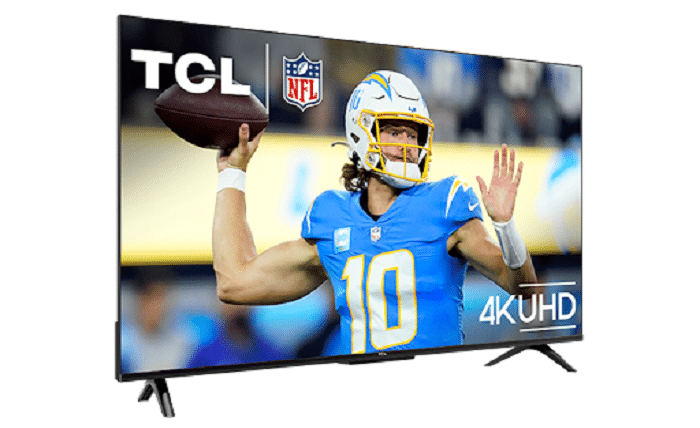 Google TV App Integration: Your Entertainment Hub
To make your entertainment journey even more convenient, the 4-SERIES seamlessly integrates with the Google TV app. This app serves as your personalized entertainment hub, providing recommendations, access to your library, and the ability to create watchlists. It's like having your digital concierge ensure you get all the content you love. With Dolby Digital Plus Audio, you can indulge your ears in immersive sound quality that matches the stunning visuals.
Conclusion 
Google TV's 4-SERIES is a true game-changer in the world of home entertainment. With its 4K Ultra HD display, HDR technology, Chromecast built-in, access to a plethora of streaming apps, cord-cutting features, google tv app integration, and Dolby Digital Plus Audio, it offers an all-encompassing experience that will elevate your entertainment to new heights. So, if you're ready to embark on a journey into the future of entertainment, the 4-SERIES is the perfect choice.